Today
In the course of the firm's 100 year history, production facilities and processes, the organisation, quality and not least, the qualifications of employees have been updated to keep pace with the demands of today's technological developments. New products have been introduced and additional markets sought.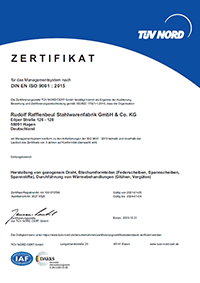 TÜV Certificate EN ISO 9002 The firm boasts a number of excellent facilities; a very capable wire drawing line, a stamping department with a toolmaking shop, computer controlled annealing and mechanical galvanising facilities. There is also quality assurance certified by our major customers, and by DIN-ISO, as well as, finally, an organisation which links production, sales and customers together. All this combines to form the image of a medium-sized family firm, rich in tradition and success.
Rafflenbeul in the press
Zeitungsartikel:
"Das Ding mit dem Loch hat's in sich"
AKTIV online - "Betriebe live", 31.12.2010
Zeitungsbericht:
"Wo Kleine Großes leisten: Scheibe vom Erfolg"
Westfälische Rundschau Hagen, 15.03.2007
Advertisement from Rafflenbeul
Stuff from 1940
Accounts Due from 1932
Advert from 1950
Advert from 1960
Advert from 1970
Advert from 2002