Self-adhesive washers MONTIX®
What's this? Sticky washers? MONTIX® self-adhesive washers
Simply use them as they come in the pack — secure fixing of the washer in position guaranteed.
Self-adhesive washers are always handy, just detach from the tape and apply! They will stick and stay stuck.
Stick on - stay on – Save time and money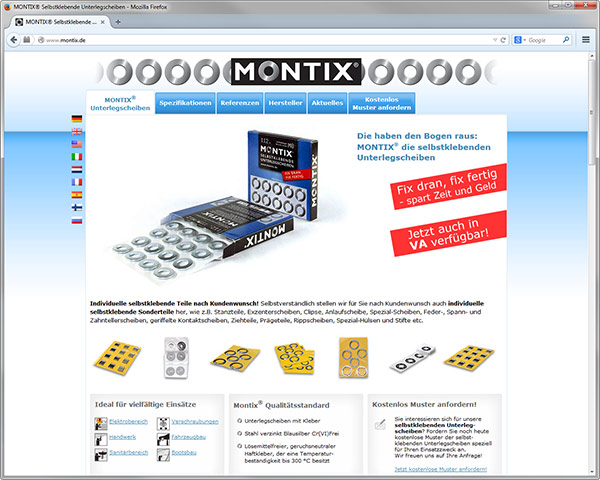 Montix®-Website: All details about the Self-adhesive washers.
Montix®
Washers with adhesive
Blue/silver galvanised steel, free of hexavalent chrome
Solvent-free, odourless adhesive, temperature resistant up to 300 °C
Montix® is employed in all areas where rapid, reliable fi xing is required. Where time means money and where work and production are performed on a sustained ecological basis.

In electrical jobs, Montix® prevents short circuiting. The washers stay put. Also, Montix® reinforces delicate printed circuit board screw connections.

In conjunction with the fastener, Montix® quickly transforms any nut or screw into a complete nut or screw assembly.

In sanitary installation work, Montix® also adheres to damp walls, locates and reinforces future drill points.

In the trades, Montix® makes it easier to work overhead and enhances safety, as one hand is always free.

In automotive work, attach Montix® washers in place before coating. Tighten up after coating.

Montix® Boat buildingIn boat building Montix® is used between the layers to mark and reinforce future drill points.
These are just a few of the applications where Montix® makes work easier, safer and cheaper.
Special-purpose Montix® applications:
We can produce Montix® on request in any appropriate materials and sizes and fitted with special adhesive (heat resistant up to 300 °C). Feel free to contact us!
| | |
| --- | --- |
| MONTIX® M3 | MONTIX® M4 |
| MONTIX® M5 | MONTIX® M6 |
| MONTIX® M8 | MONTIX® M10 |
| MONTIX® M12 | |
The benefits to be gained by using MONTIX® self-adhesive washers:
Always to hand
Quantity required simply counted and removed, facilitates order picking
Washer already positioned on the right side for easy removal and application
Self-adhesive: both hands free for fitting
All stamped materials processed:
Non-alloy steel (in accordance with EN 10139)
Tempered steel (in accordance with EN 10132-3)
Case hardened steel (in accordance with EN 10132-2)
Spring steel (in accordance with EN 10132-4)
Stainless steel/rust-proof steels (in accordance with EN 10088-1)
Heat-resistant stainless steels
Non-ferrous metals, aluminium, bronze, copper, brass, titanium
Other materials upon request
MONTIX® dimensions:
Thickness: 0.2 mm - 6.0 mm
Outer diameter: 15 mm - 140 mm
Surface treatment:
Further lasting innovations from Rafflenbeul:
Self-adhesive stamped parts
Adhesive stamped shaped parts
Self-adhesive stamped coined parts
Self-adhesive deep drawn parts
Adhesive locking washers
Adhesive rolled locking pins
We are also capable of supplying all the DIN parts mentioned above in non-standard dimensions e.g. with other lips or modified diameters in the thickness you require. Parts deviating from the DIN standard dimensions are available both in special materials and in steel.
MONTIX® – adhesive washers and shimming washers – yet another innovative product from Rafflenbeul Stahlwarenfabrik – guaranteed to stick.
Rafflenbeul, the TS 16949 certified specialists for individual stamped and formed parts..